Pladway: Programmatic DOOH to take off in Italian airports
The easing of travel restrictions and the potential of advertising:
a combination that once again rewards brands that choose to invest in out-of-home
to intercept mobile audiences.
Pladway, the programmatic advertising platform part of Voilàp Group, comments on the state of investments in digital out-of-home advertising by brands this fall and launches a new initiative for the airport segment.
"OOH advertising returns to be at the center of the communication strategies of the brands: to drive the fall season are both the iconic screens in large urban centers and in the nerve centers of major traffic and, above all, the spaces with high attendance and transit" indicate from the company led by Marco Orlandi.
Airports, in particular, represent in DOOH's plans areas of renewed appeal for advertisers in every sector – from Fashion to Automotive to Food and Travel. Advertising in these environments, in fact, is seen by consumers as more qualifying and more prestigious than others – a perception that has remained unchanged despite the pandemic – according to independent research by ResearchBods for JCDecaux Airport.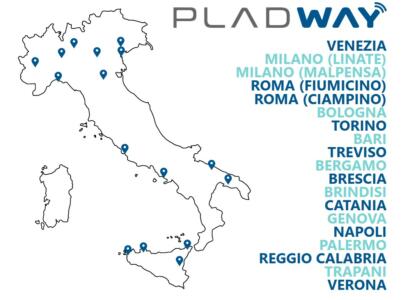 "By August 2021, nearly two out of three travelers had already resumed flying, so brands are looking to those spaces and technologies that provide opportunities to invest in a target audience of people on the move and return reliable analytics data," explains Orlandi.
Pladway, with its integrated offer for the purchase and management of ooh campaigns in programmatic, presents itself as a unique interlocutor for planning in the main Italian airports thanks to a dedicated solution that allows access to a global inventory in the airport circuits, reaching almost 800 screens of five Premium Publishers in 19 airports throughout the country.
To complete the airport offer, a further inventory of 700 screens in 10 foreign countries allows to reach the most suitable DOOH screens to reach the audience of interest all over the globe and to maximize the relevance of the messages transmitted in programmatic.
"The advertising market has been able to intercept this fall the desire to start traveling again. In Pladway we are already ready to support it, automating and facilitating access to DOOH screens in airports in Italy and around the world," Orlandi concludes.