The DOOH programmatic to intercept the in-store audience during Christmas shopping
Video and Audio on in-store screens and radios planned through the Pladway platform
can reach almost 80% of the consumers engaged in Christmas shopping
in more than 1,000 stores and shopping centers in Italy.
Pladway, the programmatic advertising platform part of the Voilàp group, presents the details of its new initiative dedicated to indoor and in-store digital advertising, which allows Brands to intercept the recovery of mobility through timely communications close to the place of purchase.
"As we approach the hottest sales period for consumer brands, the picture that is emerging sees DOOH and in-store advertising taking on an increasingly prominent role in the strategies and communication plans of companies," explains Marco Orlandi, CEO of Pladway.
In shopping centers, innovative systems for digital communication and information are becoming more and more widespread, representing opportunities for visitors and customers to engage.
According to the six-monthly analysis of Confimprese, retail is now showing signs of revival that exceed the estimates made at the beginning of the year: a progression of 8%, for a total of 828 new openings expected by the end of 2021, with shopping centers being the first channel in Italy for the opening of new stores,
The programmatic mode is the next step of advertising in physical shopping spaces, being able to more effectively guide the buying habits of consumers. "Through digital advertising, indoor or in-store, it is possible to optimize brand campaigns by adapting contents and frequencies to the promotion context" comments Orlandi. "The programmatic channel is able to manage the peculiarities of the different physical contexts, thanks to the possibility to plan with maximum flexibility the contents and to optimize their exposure to the target audience. The digital screens, whether they are high impact or totems placed along the galleries of shopping centers or in-store, are able to achieve different contact and engagement tactics, with a level of personalization that grows with the evolution of the underlying technologies. The wide range of retail screens present on our platform allows brands to identify Pladway as a natural interface to manage their planning in malls throughout the territory".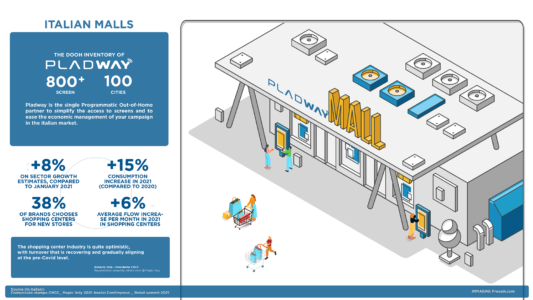 The integrated offer for buyers and media centers allows the purchase and management of DOOH programmatic campaigns in over 100 Italian malls located in 100 cities along the entire boot. In addition, there are almost 1,000 points of sale where the in-store radio offer is active.
"We believe that the positive air we breathe today in the Retail Business – in turmoil due to the desire to invest in adapting the real estate assets to the new normality – can also bring benefits to the advertising sector. We therefore intend to be promoters in this evolving panorama of advanced visibility opportunities for brands and their media agencies, starting as early as the end-of-year holidays," Orlandi concludes.